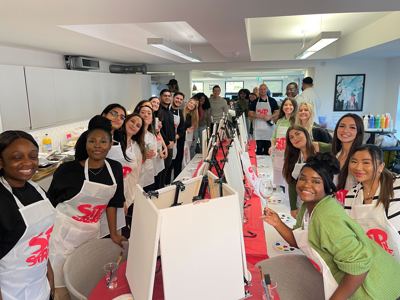 ---
Whalar
---
Sir John Hegarty, one of our investors, said recently, "Thank you for being the only good bit of financial news I've had lately!"
With a third year of triple digit growth (102%), it's been a busy 2022 for us and the creator economy.
We acquired C Talent to access the world's most influential Disabled creators, their audiences and to evolve our accessibility beyond compliance. We doubled our BIPOC community (to 36%) and grew our LGBTQ community by 25%. We've run 100+ campaigns for global brands and led our industry with innovations like: - Industry leading fair and equitable pay for creators. - A first-of-its-kind, full-funnell measurement solution, for the ever-evolving industry. - Whalar Creator Academy, a first-of-it's-kind course to accelerate the careers of up-and-coming creators from under-represented communities. - Successful creator economy B2B podcast, syndicated and trending on Adweek's Podcast Network. - Eye-popping research on how young audiences are shifting their attention from publishers and platforms toward creators, why, and what brands should do. We also sponsored local and global initiatives (Bloom, Speakers for Schools,WACL) and cultural events (Sip 'n Stroke, Mama Jerk).
And along the way we picked up awards including: - Adweek's Creator Agency of the Year. - Fast Company's 100 Best Workplaces for Innovators.