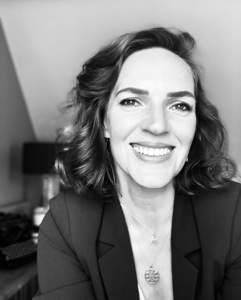 ---
KIT ALTIN
---
In 2021 Kit led the creation of our new agency philosophy, Walk Through Walls. And in 2022, she showed what a great strategic leader does to turn philosophy into reality.
She led strategy for a series of stellar pitch wins for iconic brands, which took the agency to record growth.
She inspired extraordinary creativity, recognised in a hat-trick at the Marketing Society Awards.
She was an effectiveness champion, not only scooping a Gold Effie for Sustained Success, but co-designing an Effectiveness Framework for the whole group. She defined strategies that not only drove brand success in multiple countries but also in stigmatised and highly regulated categories. She helped other people walk through walls, as a mentor for the IPA Excellence Diploma and a D&AD Masterclass trainer. She brought innovation to the agency -through tools and models -and to the group, as Chair of the Strategy Council, leading planners around the world.
And she elevated the industry, whether as an Effies and Creative Circle judge; speaking on leadership, or driving our uniquely supportive culture. She's an inspiring leader who builds great brands; a brilliant agency and a better industry. We're so proud of her and to work with her.