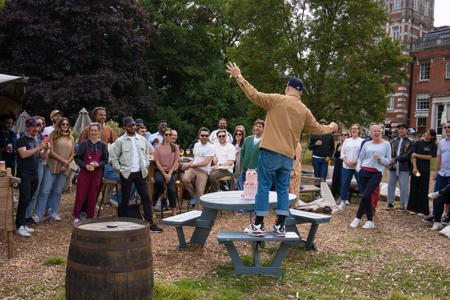 ---
R/GA London
---
Last year we were proud to pick up Silver in this category, but as Campaign's former 'Digital Agency of the Decade', we always strive for better. And so, we asked ourselves in January 'what do we need to achieve to get back on top?'. Innovation with impact was our answer. And we've had our most impactful year yet. A year when the new look R/GA London came of age & returned to the global stage.
We had R/GA London's most successful awards year since 2015. The pinnacle winning the Cannes GrandPrix for NikeSync: one of only 5 Grandprixes earned across the UK industry.
We picked up new global powerhouse clients Meta, YouTube & PWC. We're immensely proud of the body of work that we launched. All of which underpins our company's purpose 'To Design Businesses and Brands for a More Human Future': In just 12 months we built Weyay, Kuwait's first ever digital-only bank, and partnered with Allianz to inspire the next generation of Paralypians. For the Italian luxury fashion brand Moncler, we built and launched its first ever product Configurator, and for Nike we launched 'Bra By', a quarterly curated Athlete content series around Breasts, Bodies and Sports Bras.