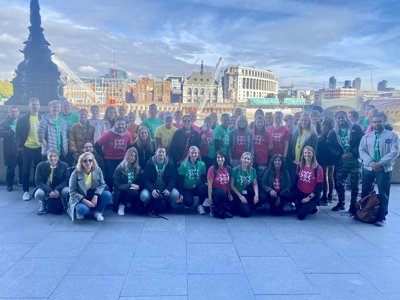 ---
VMLY&R
---
VMLY&R has experienced yet another incredible year of growth. Our momentum has once again gathered speed and we are on our way to becoming a truly formidable powerhouse in the UK.
Our integrated offering is proving more popular than ever as clients look for connected solutions to their business problems. It has seen us welcoming exciting new brands onto our roster, expanding existing relationships, and creating fame-driving work across our capabilities.
Our work was celebrated across the industry, through press coverage and award show wins, including a Gold Lion at Cannes.
We launched ground-breaking new offerings, The Inclusion Experience and a Global Gen-Z study. And opened the physical manifestation of our agency belief that spans our integrated proposition – The Home of Connected Brands.
And we've had an amazing year for talent. Our permanent headcount growth increased 24.4%, we received an IPA Platinum Accreditation for continuous professional development and we have achieved a Level 3 Advanced Employer Status on the Investing in Ethnicity Maturity Matrix, scoring in the Top 25 employers for 2022.
It's been a phenomenal year and we couldn't be prouder of the agency that we are and continue to become, together.